Printed by http://mueritz.city-map.de/city/db/061202012801/renaissance-castle-ulrichshusen
Renaissance-Castle Ulrichshusen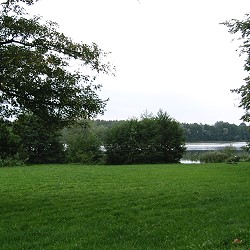 Image Copyright: RG-Webservice

How much country life depends on the power and initiative of individual personalities, can be seen on the example of Ulrichshusen Castle and its concerts, which are recognised by the music world.
In the understanding of his ancestors, who felt responsible for land and people,
Helmuth Baron of Maltzahn, wants to bring this forgotten region to its heights again.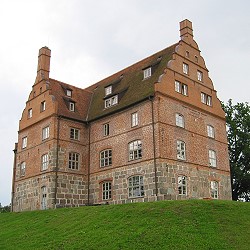 Image Copyright: RG-Webservice
On a small hill a Renaissance Castle, surrounded by a moat, was founded in 1526, in order to have a better defence against enemies and a better standard of living. It was named Ulrichshusen after Ulrich v. Maltzan who built the house ('hus').
During the centuries, the castle changed hands several times until it was bought by an ancestor of the original owner.
Helmuth Baron of Maltzahn has achieved great things already: The rebuilding of the moated castle, which burned down on the 4th of February 1987.
By now, the 'village at the end of the world' has become something like a Mecklenburg cultural oasis.
Every year between June and September, the former barn changes to an unusual concert hall for around thousand visitors during the Mecklenburg-Western Pomerania Festival.
The concerts held, in the course of the festival, - especially the performance of Yehudi Menuhin, Anne-Sophie Mutter, Peter Schreier and Justus Frantz -
made Ulrichshusen famous beyond its national borders.

A model farm for ecological farming was created after ideas by Maltzahn:
500 cattle grazing already on the expansive meadows. But, this is just the beginning.
Everything has to fit together, says Helmuth Baron of Maltzahn,
to get a 'round picture'.


The castle, the park, ponds and meadows everything coming together for an 'enhanced' stately home just as it was planed in the yesteryears - an ideal place to relax.
The 'Hotel Schloß Ulrichshusen' offers with its big knights hall and the surrounding great rooms an ideal background for company events, weddings and other important family festivities.
The former stable was converted into a lovingly furnished restaurant-café 'Am Burggraben'.